The Canvas Thief
This being, my largely abandoned blog, I forgot to mention that my latest novel,
The Canvas Thief
, published by Carina Press, is now available!
*********************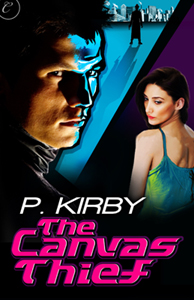 Ten years ago, with two perfect drawings, Maya Stephenson accidentally did the impossible. She brought her graphic novel's characters–Benjamin Black, a thief, and Adam Sayres, a cop–into our world.
Benjamin is tired of the real world and determined to go home to EverVerse, the land of imaginary characters. He breaks into Maya's house, planning to force her to destroy his drawings, which will Fade him to EverVerse. The last thing he wants is a relationship, especially with the person who dragged him into this world. But when he meets Maya, his heart starts insisting he's already home.
Maya has always suspected she's different. But until Benjamin and Adam appear in her life, she's been the epitome of normal. And normal girls date guys with respectable day jobs. So why are her thoughts and hormones getting sidetracked by Benjamin, the enigmatic thief? Especially when Adam, "the good guy," is available and interested.
Except real world Adam is a crime lord masquerading as an ATF agent. From Maya, he wants an army of immortals. From Benjamin, he wants immortality independent of his drawings, which can only be achieved if Benjamin Fades to EverVerse, taking one of Adam's drawings with him.
Benjamin and Maya fight their attraction, all the while coming up with reasons to see each other. But falling is love is the least of their troubles. Not when Adam is willing to do anything, including hurting Maya's friends and family, to get what he wants.
******************
Buy it from
Carina Press
and
Amazon
and
Audible
(audio book).
Read Chapter One
here
.