Another Sally Field Moment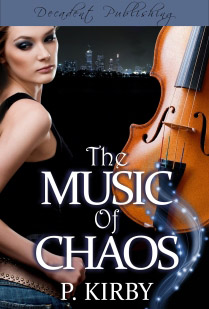 In which I say, "You like me, you really like me."
The Music of Chaos
, my
quirky urban fantasy novel
, scored
another nice review
.
Regan O'Connell is a Wolfe, part of a supernatural police force. She spends her evenings killing rogue lesser vampires and her days with computers at a mundane day job. She is half vampire and the daughter of one of the most powerful vampires on earth. She struggles daily not to be a disappointment to him. Her current assignment is in Albuquerque, New Mexico, hardly a hotbed of vampire activity, which is until lately. Someone is producing lesser vampires at an alarming rate and to complicate matters, two Holders, the Wolves human counterparts have been assigned to the city as well. An old flame, Breas, an ancient and incredibly powerful vampire, suddenly comes to town as well; making her wonder what exactly is going down in her previously quiet city.

Ms. Kirby has created a vivid and exciting world that I hope to visit again soon. The characters are colorful, bizarre, and real at the same time. I had no problem picturing each and every one of them. She let us in on just enough of the back story of each of the characters; enough to picture and know them, but leaving a bit more to learn about each of them. Regan is an interesting character; a dyslexic demi-vampire who uses music and math to do her magic. Her best friend Talis helped her through school, but the cheating is starting to catch up with her on this mission. The plot of this story is exciting and has many layers, the detail is extraordinary, and I was unable to put this book down until I got to the last page, and I didn't want to put it down even then. Hopefully there will be another Regan O'Connell story soon; I can never get too much of my new favorite anti-hero Breas.
Silly "Squeee!" from me.
The Music of Chaos
is available as an ebook from
Decadent Publishing
,
Amazon
,
Smashwords
and at other online retailers.
Labels: Decadent Publishing, ebook, The Music of Chaos