The Music of Chaos, Free Book Contest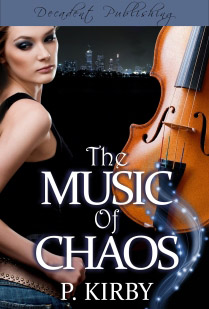 Free
urban fantasy book!
Free
art! That right,
free
.
Win a free copy of my quirky urban fantasy,
The Music of Chaos
. It's easy. Just click this
link
to go my contest page over on Romance Junkies. There, you'll see the following question:
"What is the name of ...'the brave soul who had dared the displeasure of my company'?"
The answer can easily be found in
Chapter One
of
The Music of Chaos
. (Seriously, you can just skim through the text. He is the only other person in the scene.)
The contest runs through
August 31, 2011
, so you have time to enter multiple times. While you're there, check out some of the other
authors/books
that are participating in this contest.
***The Music of Chaos***
***Back Cover Summary***

"My century long career as a Wolfe did bear a stronger resemblance to a blooper reel than a profession..."

Regan O'Connell has a PhD and a good job as a project manager with a consulting company. Unbeknownst to her human co-workers, she's 130 years old, and has a magical pedigree that includes vampires and elven royalty.

Immature by the standards of immortals, she has little control over the magic that simmers in her blood. For more than a century, she has worked as a secret operative for the vampire syndicate the Grey Brethren. For just as long, she has hidden her magical disability, struggling with one paranormal misadventure after another. Tired of her shenanigans, the Grey Brethren station her in Albuquerque, far out-of-the-way by paranormal standards.

The arrival of a mysterious user of chaotic magic—a world destroying power—spells the end of Regan's trouble-free existence. Soon after, her vampire employers issue an ultimatum: find and neutralize the chaotic magic user or find a new job. To make matters worse, she has inadvertently started a war and developed a surprising attraction to a human. Sorting the mess out will require a little help from her friends, some growing up, and acceptance that she will never be a practitioner of conventional magic.
*****
Available from
Decadent Publishing
and
Amazon
.
Also available in
ebook format
.
Labels: The Music of Chaos, vampires