Desert Blooms in May
A few of the first flowering things in our yard.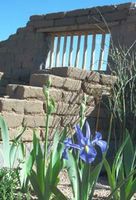 First iris of spring
Native New Mexico wildflowers: scorpion flower and white globe flower.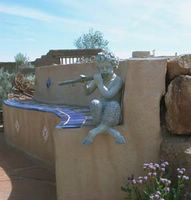 Pan in the desert. Hard to see it this picture, but the desert sun has given Pan a sunburn and he's now peeling. Poor Pan.
Salvia and Bowles Mauve. Bowles Mauve (light purple flowers) plant is complements of Mom. [Wave to Mom.]
All photos copywrite © 2005 Patricia Kirby