In The Tradition of Jeff Foxworthy
Tomatoes
et al
There are tomato plants in there somewhere. My approach is very Darwinian. Stick a bunch of plants in a bed; let the best win out. Thanks to the extra water, the
Mexican Hats
(prairie cornflower) have taken over a chunk a of the tomato bed.
It's Official; We're White Trash...
It all started out harmlessly. The J-man went out for drinks with one of his coworkers. And...he comes home with a nasty old barbeque grill. Keep in mind we already have a grill.
"But, it's not stainless steel," he argues.
Uh-huh. And the thing he brought home is...barely. It seems to be composed largely of rust. "Don't scrub too hard," I say. "It might disintegrate."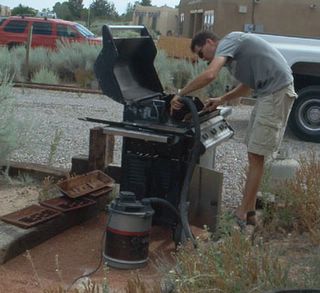 The J-man and his new acquisition. Note the pile of rusty grill bits at the lower left.
Should go nicely with the concrete mixer by the driveway.
Red, so it'll go fast, I suppose. Plastered but not yet stuccoed wall in background.
Men. Lesbianism is starting to look like a nifty idea.
I'm not even posting the dead car. That one's my fault. A human being won't answer the American Lung Association's phone, and I refuse to leave my name regarding the car donation program.
Here's why I keep the J-man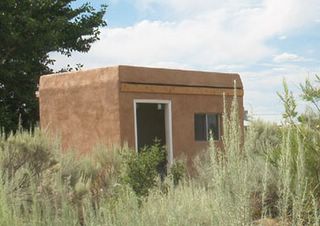 Little shed, almost done. Just needs the porch. Drywall and interior was finished last week. So clever he is...when he's not collecting junk.
Happy Saturday,
Pat K.